Dorset & South Wilts Area
As a result of the Coronavirus outbreak and in line with Government advice, all Area events planned for the 2020 season have been cancelled.
We regret that this decision has been necessary and will be in touch with members later in the year as the situation unfolds.
Ann James
Area Commissioner
BDS Dorset & South Wiltshire Area Show
After a great deal of deliberation and with much sorrow it has been concluded that the BDS Dorset & South Wiltshire Area Show planned for Sunday 6th June 2021 at the Turnpike Showground, Motcombe, SP7 9PL cannot go ahead.
Thank you to everyone who registered their interest and in particular to those who would have come to compete, we are extremely sorry to disappoint you.  Huge thanks also to the many people who would have helped to stage the show.  All of your support is very much appreciated and I hope that we will be able to host another show in due course.
With many thanks.  Alison Trevett – Show Secretary
2019 Show Champion John F Vyse
driving Archie


Chanie Matthews driving Banjo 2019
Dorset & South Wiltshire Area Champion

The Area Show was held on Sunday 9th June 2019 at the Turnpike Showground, Motcombe
Please see Past Events for full results and lots of photographs by Helen Lorentzen -
Dorset Equestrian Photography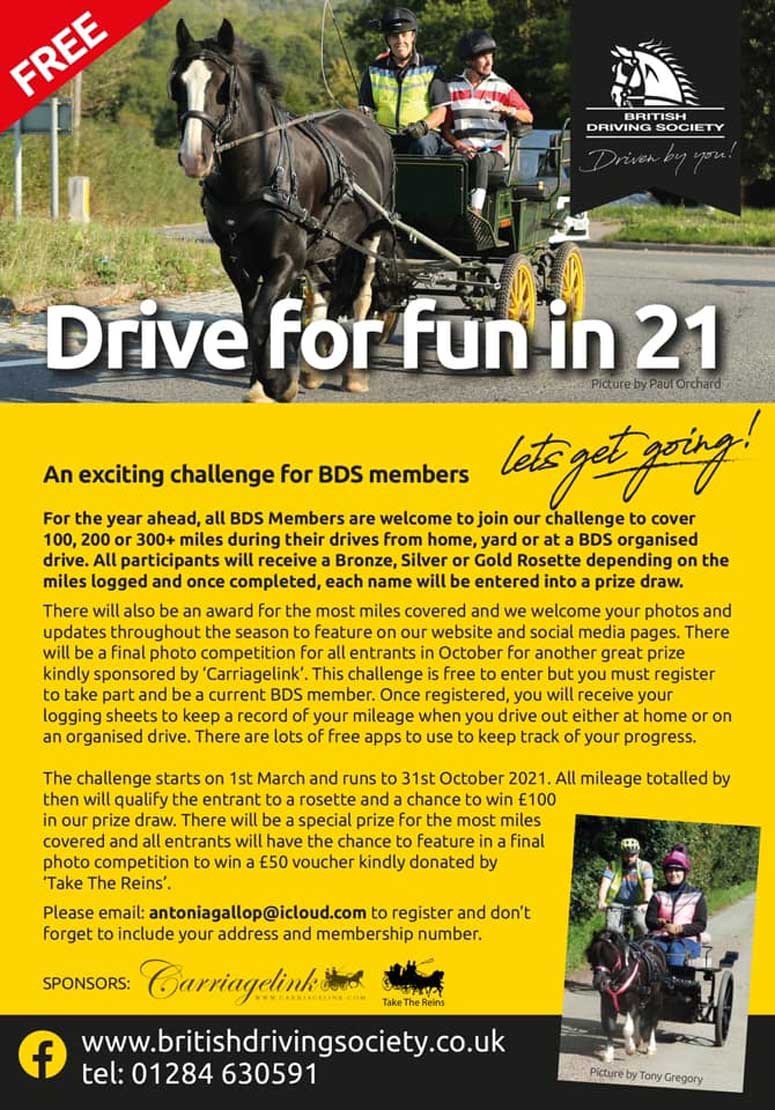 ****************************************
Lockdown tales/photos
It's a strange summer and we've missed our gatherings and lovely interval drives but, despite the lack of activity nationwide, the BDS magazine is going ahead with its summer issue, planning for publication in August.
Obviously, we have no reports or photos from our outdoor season to send in to the editor, but I'd be grateful if you could let me have any 'lockdown tales' of how you (and your horses!) have adapted to these strange times. And if you have good-quality photos,(not sent from mobiles or Facebook),we could perhaps fill at least a page for Dorset & S Wilts...
So, if you have an amusing or interesting story and/or photo, please email it to me at smyth.bfs@gmail.com and include a contact phone number. A few lines will do – you don't have to rival Dickens!
All my best wishes to Dorset & S Wilts members
- Sandy Smyth (Newsletter editor)
****************************************
Events for next year are currently being organised and should be included in the next Newsletter and on this website. Please remember that we need your support for all our events – if you want to find out more about an event before committing, just get in touch with any of our Steering Group members and they'll be glad to help.

****************************************
Newsletters
If any member would be happy to received the Newsletters by e-mail (which will save postage, printing etc.,) Please send your e-mail address to: - smyth.bfs@gmail.com
Persons wishing to attend a BDS event who are not BDS members MUST sign to say they have their own insurance. It not necessary for the AC to see their insurance documents, but they must sign a disclaimer, and return to the AC or event organiser.
Click to print disclaimer
***
'Some horses come into our lives and quickly go
but others leave hoofprints on our hearts
that will never fade'
***
Website last updated 6 July, 2021